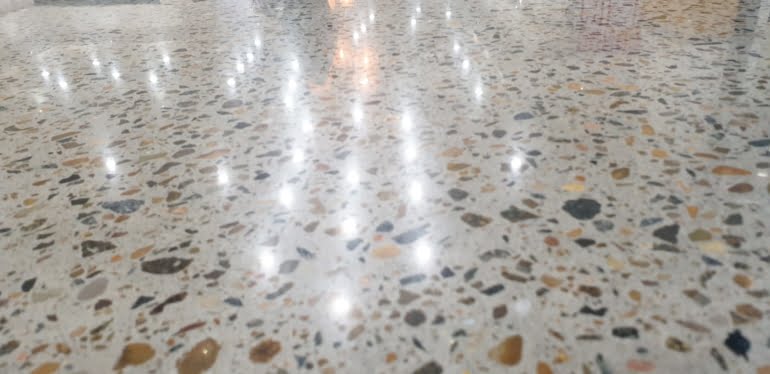 Concrete Floor Polishing in Brisbane
Epoxy Flooring Brisbane provides all kinds of concrete solutions including quality cost-effective concrete floor polishing and resurfacing.
All aspects of flooring services, from polished concrete to smooth epoxy coating we can do all that for you! As we are the best flooring specialist in Brisbane. In addition, we can polish your aged and damaged concrete floors to regain their finish and durability.
Above all, Epoxy Flooring Brisbane offers various designs, acid stains, and designs to choose from. So we can further refresh your floor according to your personal needs for residential, commercial, and industrial projects.
---
Why Epoxy Flooring Brisbane For Concrete Polishing?
---
We use concrete grinding and polishing machines with diamond pads to smooth and polish the concrete. Our process removes all imperfections, stains, and leaves the concrete in a refreshed condition. Epoxy Flooring Brisbane are the leading experts and contractors for concrete resurfacing and are the complete "concrete floor polishing near me" solution.
---
Our answers for some of the FAQ's of Concrete Polishing
---
1. Can you polish existing concrete slab?
Yes, an existing concrete floor can be polished. The floor can have a natural concrete look, coat of color applied over the existing slab. In comparison to other flooring options, concrete polishing is very cost-effective.
2. Can polished floors be scratched easily?
Concrete Floor Polishing is extremely strong which is able to withstand heavy traffic and moving equipment. It is very difficult and nearly impossible to chip or scratch the polished surface.
3. Is polished concrete slippery?
As the surface looks smooth as glass, they are safe to walk when clean and dry. However, it can be slippery when wet but we also offer you a non-slip option upon your request.